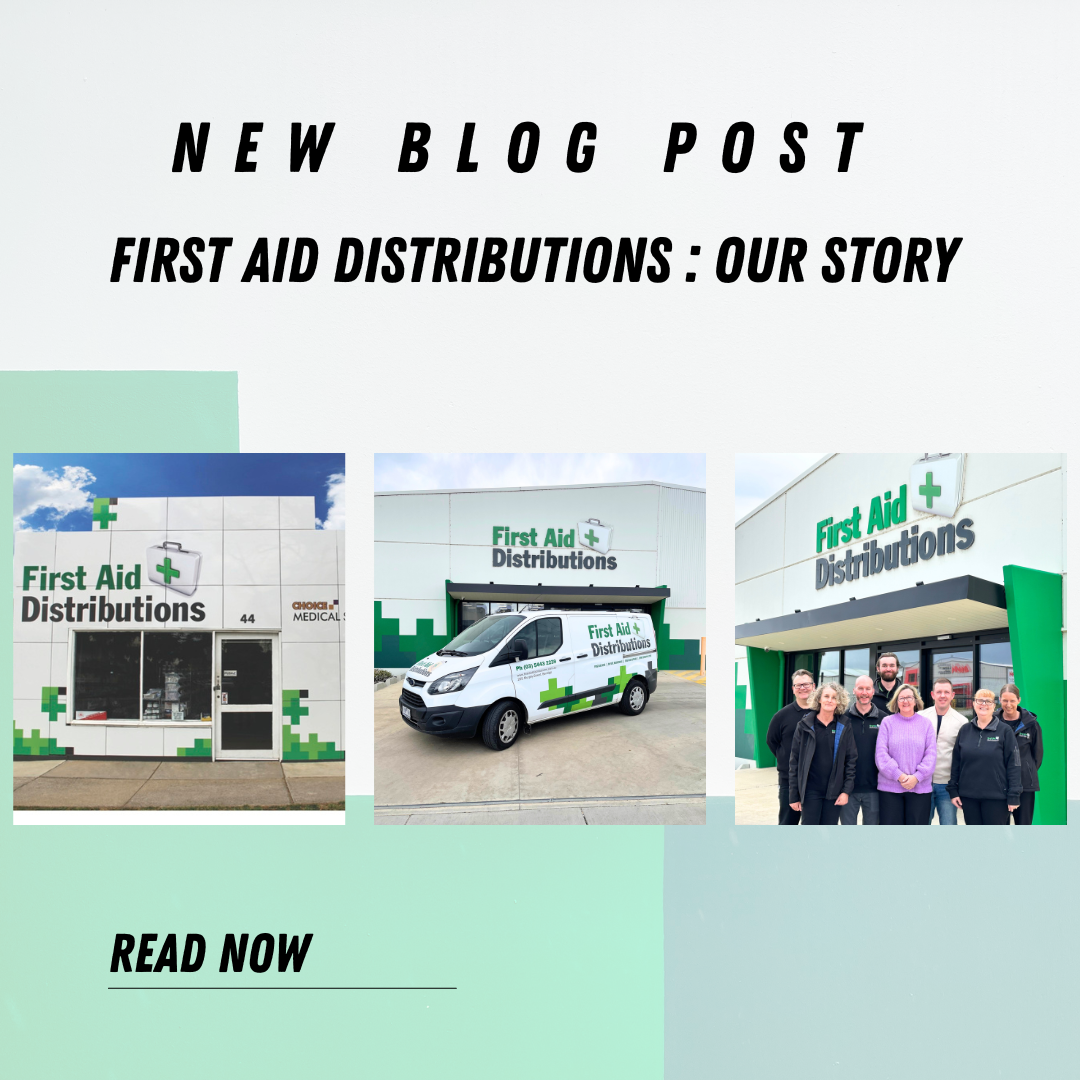 First Aid Distributions Story
Thank you for being part of our ever-growing family at First Aid Distributions. As we continue our safety journey together, we believe it's important for you to know more about us - not only our story but also the people who make it all possible. Sometimes all you see is a faceless business, but here at First Aid Distributions we are much more than that.
 Our journey began in 2011, when we acquired First Aid Distributions with the sole mission of providing first-class medical and health supplies to customers throughout Australia. This mission expanded in 2013 when we acquired Choice Medical Supplies, allowing us to broaden our offerings and deepen our commitment to health and safety.
We started operating the business out of our old faithful Mercedes van from home. As business grew we expanded into a small store in Bridge street Bendigo which was open to the public. After years in Bridge street the business had outgrew our small trusty shop which meant proudly building a large custom retail store and warehouse in Murphy Street, East Bendigo.
What makes us truly unique, though, is our people.
Our dedicated team is the heart and soul of First Aid Distributions. Led by our owners, who bring a wealth of firsthand experience as medical professionals, we strive to offer you the very best products at the most affordable prices. 
Kim: Serving as the Director of Australian First Aid Distributions Pty Ltd, Kim brings a wealth of experience to our team. With thirty years under her belt as a Division 1 nurse, she offers invaluable insights into our operations.
Paul: As our General Manager, Paul harnesses his 25 years of experience in leading sizable teams to guide First Aid Distributions into an exciting new phase. His dedication to customer service propels us forward. 
Marcus: A Founding Director alongside Kim, Marcus is not just an administrative heavyweight; he's also a practicing Intensive Care Paramedic, providing a practical perspective that enriches our service delivery.
Our Customer Support team includes the formidable Michelle, Wil, Kim, Andrea and our newest member Glen. They ensure every interaction with our company is a pleasant one, handling your queries and concerns with professionalism and a personal touch.
We're more than a faceless online store. Our team is committed to understanding and addressing your unique safety concerns, whether it's through our exclusive brand, Straptor, our in-person first aid kit checking and restocking services in Bendigo, or our innovative online kit management service, KitCheck.
Our unique products like the OPS Vandal Proof Soap Dispenser, exclusive to us, are the result of our constant quest for innovation.
Our passion and commitment to safety were truly tested during the 2020 pandemic, which led to unprecedented growth for our business. This prompted a move from our small store on Bridge Street to a larger shop and warehouse on Murphy Street. We now operate both in-store and through our 24/7 website, ready to cater to your safety needs whenever you need us.
We share our story with you to reinforce that we understand safety. We've been in your shoes, experiencing firsthand the need for reliable and affordable medical supplies. We're more than a supplier; we're a partner in your journey to ensure the health and safety of you and your loved ones.
Thank you for trusting us. Together, we can make safety a priority.